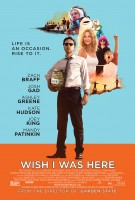 A few days ago I was in Chicago to see Wish I Was Here as one part of the reward for backing the project on Kickstarter a little over a year ago. This viewing was originally slated to be some time in September, but it got moved up. I don't know why, but it worked out better for me this way, so thanks, Zach!
The showing was at 8:30, and we were told not to get there earlier than 45 minutes early, but also that seating was first come, first served. Since I dislike Chicago strongly (and most large cities, really!), I figured I should get there early to make sure I was on time and to make sure I knew where I was going and all that.  I got to the parking garage around 6:30, so I wandered up to Navy Pier and then back to the theater in time to be in line on time.
I had to show my printed-from-email ticket, and then had to sign a "sure, use me in promotional videos or photos or whatever" form, and then stood in line. I had brought a book with me (The Pun Also Rises, in case you were wondering), which was a good thing since I didn't know anyone there and had plenty of time to read it. The music playing in the theater before the movie was very Braffian and I enjoyed it, even though I couldn't tell you the name of a single one of the songs or artists that played.
A little after 8:30 Zach showed up to welcome us and to point out that Donald Faison was along with him. The immediate vibes I got from both of them
Zach was excited about the film and about sharing it with us backers and he was thankful to us and proud of the result.
Donald was looking for a party and if one didn't present itself, he was going to make one happen.
Then we watched the film.
Now, before I comment further on the film, let me remind you that Garden State holds a special place in my heart for reasons that aren't immediately clear to me. I've never lived in New Jersey, I've never been an actor in Hollywood, I've never done drugs, I've never done most of the things in that movie. But the feeling in the movie, of a person drifting and not knowing exactly what to do while at the same time doing what he thinks he should, that feeling spoke to me. Yes, I understand that Garden State is more a collection of scenes than a movie, but that doesn't bother me. The feeling of that movie (further enhanced by the soundtrack) is a feeling that has stuck with me. I rewatched Garden State last week in preparation for Wish I Was Here, and that feeling is still there, but it doesn't speak to me the same way it used to. Regardless, it will always hold a special place in my heart.
With that said, let me say that I think the trailer for Wish I Was Here lied to me. From the trailer I got the idea that the movie was going to be very Garden State-ish and hit a lot of the same beats. I was surprised when the movie itself did not do these things. I've said to at least one person since then that "the movie was better than the trailer," and I liked the trailer.
IMDb summarizes the movie this way: "Aidan Bloom is a 35-year-old man who finds himself at major crossroads, which forces him to examine his life, his career, and his family." Slightly stretched out, Aidan's dad is dying of cancer, so he can longer pay for Aidan's kids to continue going to their private school. Aidan's brother hasn't talked to their dad in over a year. Aidan's acting career has stalled and his wife makes the only money the family has.
The cast is top notch. Mandy Patinkin plays Aidan's father, and I've been a big fan of his since before I saw The Princess Bride. I couldn't place where I'd seen Joey King before until Zach mentioned she was Ra's al Ghul's daughter in The Dark Knight Rises. She was great, Kate Hudson was great, Josh Gad was great – listen, they all were great.  And the cameos were fun, too. Keep this in mind when you see it (because you really should see it): James Avery's line "We all did" was an ad-lib and it puts a hilarious button that particular scene. Zach mentioned this in the Q&A, both that it was an ad-lib and that it's the last filmed role James Avery had before he died.
The major themes are family, death, and pursuing dreams, and they weave together very well. The movie is very funny, but also touching, and the bit of the fantastic scattered throughout makes a nice backdrop for it all. This is a better movie than Garden State, a much better movie, and I loved it. I can't wait to see it again.
After the movie, Zach and Donald came out for a Q & A session. Well, more correctly, Zach came out for the Qs and As, Donald came out to give the microphone to questioners and pose for selfies. My decision to sit in the middle of the row for better viewing cost me a chance to get a picture with Donald, and I may never forgive myself. I did get a somewhat blurry picture of Zach and Donald onstage which I tweeted and which got me the most likes (21) I've ever gotten on a tweet:
I enjoyed listening to Zach talk about the movie and about the process of getting it made, almost as much as I enjoyed the movie itself. He was very clearly thankful for the support and he was very clearly proud of how it turned out.  While the Chicago crowd didn't get a rendition of "Guy Love" like Austin, Texas, did, I didn't feel shortchanged at all.
I didn't get home until quarter to three in the morning, and parking ended up costing me $37. I'm still not quite sorted from my out-of-whack sleep schedule, but I thoroughly enjoyed the whole experience and I'm glad I was able to be a part of it.
Wish I Was Here hits theaters July 18.
Tags: Wish I Was Here, Zach Braff
Written by: Mark