In honor of our two-year anniversary, I thought I'd do a little giveaway. Here's what's in the prize package: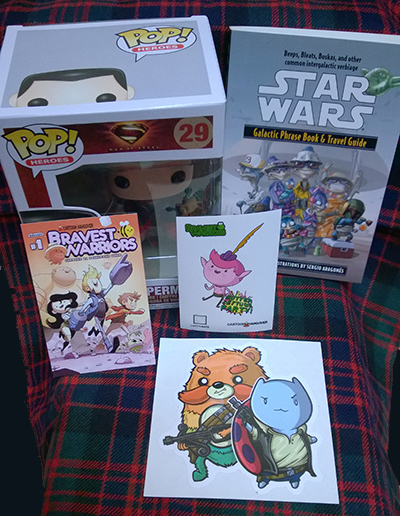 A Funko Pop! vinyl figure of Superman (#29 in the series)
A Star Wars Galactic Phrase Book & Travel Guide
A code for a free digital comic of Bravest Warriors
Two Bravest Warriors stickers
How's that for a weird mix?
All you have to do to enter is retweet this tweet right here. Yes, that means you have to be on Twitter to enter, but most of you are already. And if you're not, now's the perfect time to join – it's free, I swear.
And I'm sorry to have to say this, but I'm going to have to limit this contest to U.S. residents. Yes, I'm aware that we have an Aussie who writes for us and this seems like the worst sort of discrimination, but I am not made of shipping fees, people!
You have until 12:06p (Eastern Time) on Wednesday, November 5 – two days from now. At that point I'll take a look at who has entered and have a computer randomly select a winner.
Good luck!
Tags: contest
Written by: Mark