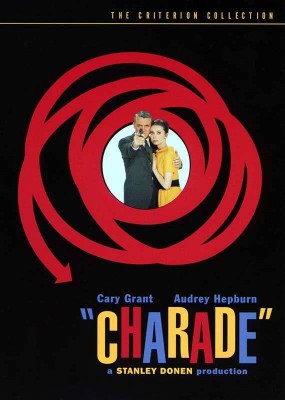 For 20-some years now I've thought the movie Charade was an Alfred Hitchcock movie. Watching the movie didn't change my mind on that opinion. It wasn't until I read the first item of trivia on IMDb for it that I realized my error:
 Due to the suspense, the stars, and the frequent plot twists, many people believe that this is an Alfred Hitchcock film. He was not involved in the making of the film at all. This confusion has prompted fans of the film to call it "the best Hitchcock film that Hitchcock never made."
Ah, well. In spite of all that, it was a great little film – and I say this as a person with very few pre-1980 films under my belt.
The absolute best part of the movie is that it stars Audrey Hepburn and Cary Grant, two of the movie-starriest movie stars that ever movie-starred. They are just the best, folks. Yes, there's a 25-year age gap between the two of them, but when they're in the midst of their snappy patter, you won't mind at all, I promise you. Add in Walter Matthau, James Coburn, and George Kennedy, and you've got quite the cast going on here.
As for the plot, there's theft, murder, fighting, deception, and love. (What else could you want?) Regina's husband has died, and several mysterious men are after her for the $250,000 he apparently had. She doesn't know anything about it, but their threats are becoming more and more real and she doesn't know who she can trust. As the name of the movie implies, not everyone is who they seem to be.
Apparently, after finishing this film, Cary Grant was quoted as saying, "All I want for Christmas is to make another movie with Audrey Hepburn," but it didn't happen (source). It really is too bad, because they were so enjoyable together.
---
Charade was my 39th movie of the year. It is available on Netflix Streaming.
Written by: Mark