This is the second in a series of transplanted articles from my other blog. The transplants will run on Saturdays until they're all over here. They are copied and pasted, but might get slight edits here and there.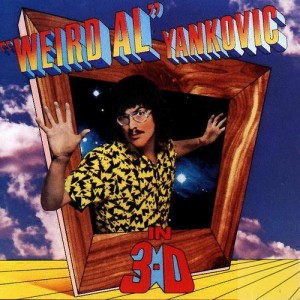 Al's second album, released in 1984, which was still earlier than I first heard him. This is the big one, the one that put Al on the map.
11. Mr. Popeil – This album starts a series of Al albums where I don't dislike a single song. Sure, I like some songs better than others (otherwise how would I do a ranking series?), but unless I tell you flat out that I don't like a song, I still like it. This one's a fun riff on all those "As Seen on TV" products.  Ron Popeil was the Billy Mays of his day, if Billy Mays was part Thomas Edison. "Now how much would you pay?" is the repeated punchline on this one.

10. That Boy Could Dance – An original that makes you think Al probably could have gone a less silly route into music and still have been okay. It's the story of a kid who was a dweeby loser in school but grew up to be a great dancer and the coolest guy everyone wants to know.

9. King of Suede – A parody of a Sting song, which should immediately tell you this one's not nearly as weird as the original. It's all about a guy who sells suede … well, everything. Suits, shoes, all of it. And there's a 30% sale!

8. Nature Trail to Hell – A spoof of horror movies, of all things. Not an every time listen, but enjoyable if you're familiar with horror movie clichés at all.  Poor Cub Scouts :(

7. Buy Me a Condo – A reggae song about a guy movie to America from Jamaica and looking forward to all of the mid-America joys the country has to offer. Cuisinarts, jacuzzis, wall-to-wall carpeting – this guy is pretty psyched.

6. The Brady Bunch – Al (as you will see) loves him some TV. This is a parody of The Safety Dance, so it's catchy as all get out.

5. Theme from Rocky XIII (The Rye or the Kaiser) – I didn't hear this song until well after I saw Rocky III the first time (and became a life-long Sylvester Stallone fan because of it), so the spoof of that movie's theme song showing what Rocky's life would be several years after he retired was pretty humorous to me. In this song, Rocky owns a deli, and he's constantly suggesting that people try "the rye or the kaiser," rather than having the Eye of the Tiger. Love. It.  It's particularly humorous to me that in the final Rocky movie, Rock is retired and owns… a restaurant. I'll always wonder if that's a nod to Al's song.

4. I Lost on Jeopardy – This was the first Al video I ever saw. I think we were waiting for Star Trek to start and Entertainment Tonight played it over their credits as it ended right before. I didn't really know what was going on, but I knew Al amused me.

3. Midnight Star – "They're keeping Hitler's brain alive inside a jar!" Al's take on tabloid papers, as seen while waiting in the checkout lane.

2. Polkas on 45 – Ah, the beginning of the polkas. When Al was a kid, the story goes, a door-to-door salesman came around to the Yankovic household selling music lessons for either violin or accordion. Al's mom chose the accordion, and the rest is history.  Though Al is not related to the famous Frankie Yankovic, you can't help but know polka if you can play the accordion. Al's polkas are mashups of several pop songs all together in a polka format, and they're fantastic fun. I don't know that I could list a favorite one of all his polkas, but you're sure to see each one rank pretty high in this series.

1. Eat It – This is the song that made Weird Al a household name. Nobody was a bigger star than Michael Jackson, and there have hardly ever been bigger songs than Beat It.  It's amazing to think that a) Al asked Michael if he could parody it, and b) that Michael said yes. Al has said many times over that he owes his career to MJ, and he's probably not kidding. The video for this one is also a great parody of the Beat It video, with a little bit of Thriller thrown in.
When I type these up, I get some info on dates and track listings from Wikipedia, but any lyrics quoted are straight outta my head, because I still know pretty much every one of them.  I may not remember your name 5 minutes after meeting you, but ask me about some Weird Al lyrics and I've got you covered.
Tags: Weird Al
Written by: Mark