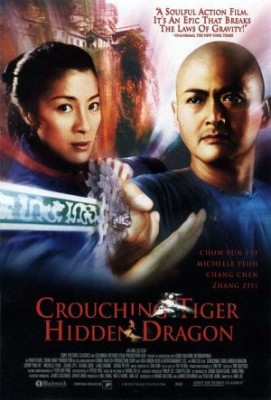 It's weird to think that 2000 was 15 years ago.  Everybody was done freaking out about Y2K and on to freaking out about… I don't remember, actually. People are always freaking out about something, though.
I have seen 67 of the films released in 2000. These are my favorite 10:
10. Cast Away – I know I'm not unique in this, but I still can't figure out how they made the loss of a volleyball so sad.  Kind of like the Companion Cube in Portal, really.

9. Almost Famous – I'm not sure there's another "music movie" that's more music-y than this one.

8. Chicken Run – Made by Aardman Animations, and my love of Wallace & Gromit carries over tot his film.

7. O Brother, Where Art Thou? – Even now "Man of Constant Sorrow" floats around at the edges of my subconscious.

6. Memento – The DVD has a feature where you can watch this one "forward," and I've always intended to try it but still haven't.

5. The 6th Day – Please note that I am aware this is not a better movie than several listed above it, but I thoroughly enjoy it.

4. Gladiator – I remember learning that the Coliseum had been done in CGI and that was when I first realized CGI wasn't just for monsters and spaceships and such.

3. X-Men – We can be forever grateful that we got Hugh Jackman as Wolverine instead of Dougray Scott (who?).

2. Crouching Tiger, Hidden Dragon – This movie is so beautiful.

1. Unbreakable – My favorite M. Night Shyamalan movie, but now I can't read the title without hearing this.
Further mentions:
Battlefield Earth – Someone rented this one for me when I was sick because they thought I'd like it. They were wrong.
Best in Show – I enjoy it, but I like Spinal Tap, Waiting for Guffman, and A Mighty Wind more.
Duets – I still have the Gwyneth Paltrow-Huey Lewis duet on my Zune.
Requiem for a Dream – Great movie that I hope I never have to see again.
What Lies Beneath – Michelle Pfeiffer and Harrison Ford in the closest thing to a Hitchcock movie we were ever going to get.
Written by: Mark